The Kindred Team
Here's the deal — Bring your expertise, an awesome attitude, and work to uphold our core values. We, in turn, provide awesome pay, great benefits, constant opportunities for growth and a fun and fast paced team of people to work with!
We know we're not right for everyone… You must care about the quality of your work and how you treat others. If you're professionally minded, we want you to be a part of our awesome team. A team built on supporting and caring for each other and our community.
Check out our core beliefs bellow and reach out to start the conversation.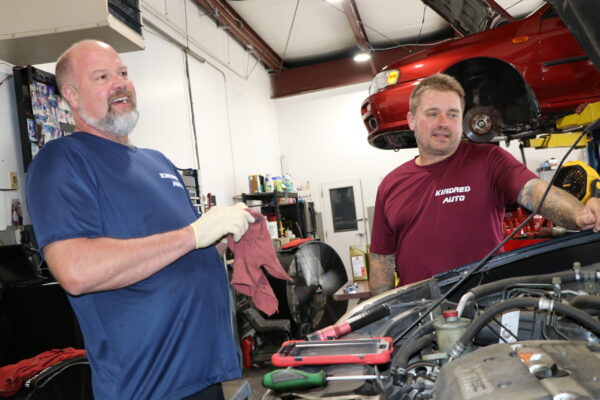 The Kindred Spirit

Reject Average – Good is the Enemy of Great
Be a Propeller – Energy is Contagious: Stay Positive
Take The Hill! – Don't Wait, Action is the Answer
Own My Part – Life Happens For Me, Not To Me
See It, Own It, Solve It – We're All Leaders
Always Building – My Team, My Family, Myself!
Ashley L.
Unmatched Customer Service
★★★★★
Highly recommend Christian Family Automotive for your car repair needs. It is refreshing to find a shop that truly cares about its customers and does not try to take advantage. As a woman, I am often worried that I am being over charged or told there are repairs that don't really need to be done. At Christian Family Auto, I do not have to worry about this. They take the time to thoroughly explain the issues and make recommendations on what needs to be fixed immediately vs what can wait. There was one repair that I was unfamiliar with, so Robert took the time to walk me through what it was and how it impacted the car. Their level of customer service is unmatched!
Sally O'Neill
Flexible Scheduling
★★★★★
Great business! I scheduled a pre-purchase inspection and they were able to accommodate my schedule just a few days in advance. The dealership did not have my car ready at the scheduled time and Kindred was extremely flexible with changing my appointment time twice and when I arrived late, they still got me right in (and it was New Years Eve). They performed a top notch thorough inspection in about 1hr and charged a competitive price of $80. They immediately texted me a detailed report of the inspection findings along with photos. I was able to make an informed decision before I decided to purchase the car. They were all professional, friendly, accommodating and knowledgeable. I would definitely recommend Kindred. I live out of town but if I was local, I would use their services regularly!
Jer Kem
Reasonable Pricing
★★★★★
Rob and his team have serviced our 3 vehicles over the last few years. We moved to SC from MD several years ago. I had a pretty reliable mechanic there but needed one close by. Looking for a mechanic we could trust was not easy. We did a Google search and came across Christian Family Auto, now Kindred Auto, and we couldn't have discovered a better mechanic to work with. We had a Solara, Jeep Liberty and a Lexus is250c. They have serviced all 3. Their pricing I found reasonable and the service above par. Good business to deal with.
Contact Us To Start The Conversation
Ready to hear more about what we can offer? Give us a call at (704) 321-0090, send your resume to [email protected] or fill out the form bellow and we will reach out to you.